Are you an ambitious small business owner? Are you feeling pumped up about taking your online presence to the next level? Do you ever lie awake thinking about how to rock it in the digital world?
Well, creating a website or giving your business an online presence is the pivotal step that can't be ignored at any cost. But, as an SMB, getting hands into traditional coding is a costly and time-consuming process, which eventually leads to the need of hiring experienced developers, especially if you are a non-tech person. And that's an extra burden on your finances.
If you agree with me and are looking for a cost-effective solution, then get ready, because the world of no-code solutions is about to blow your mind!
The no-code revolution enables non-programmers or we can say laymen or non-technical individuals to create their websites, storefronts, landing pages for marketing, Saas platforms, and dashboards without coding.
Yes, you read it right….
"In 2022, the global revenue of the low-code platform market soared to nearly 22.5 billion U.S. dollars. Brace yourself for even more astonishing figures, as projections indicate that by 2024, this number will surge to around 32 billion U.S. dollars. With an impressive compound annual growth rate (CAGR) of 26.1 percent across this timeline, the low-code market is undoubtedly a powerhouse of expansion and innovation." Source: Statista
So. don't think twice and join the movement reshaping entrepreneurship – embrace No-Code and watch your online dreams flourish like never before.
The Significance of Online Presence for Small Businesses
Undeniably, having a strong online presence is vital for small businesses to succeed. Think about it – potential customers are out there, scouring the internet for products and services. And if they can't find you, where do you think they'll go? Yep, straight to your rivals.
But here's the exciting part: when you nail your online game, you boost your brand's visibility, credibility, and how well you connect with customers. And it's not just about having a website – it's like building an inviting online shop that turns visitors into your biggest fans.
The Evolution of No-Code Development
What is No-Code?
No-code development refers to the creation of software applications, websites, and other digital solutions without requiring traditional programming skills.
No-code platforms provide intuitive tools and interfaces that allow users to build complex applications by simply arranging pre-built components. It employs intuitive interfaces with features like WYSIWYG (what you see is what you get) editing, drag-and-drop functionality, and pre-built templates, which make the entire development process a breeze.
Check out the Top 11 No-Code Website Builders With Pre-Built Templates
History of No-Code Development Tools
The movement's origins trace back to 2003 with WordPress, which allowed website creation without code. Platforms like Shopify, Bubble, and Airtable followed, broadening the scope beyond basic websites.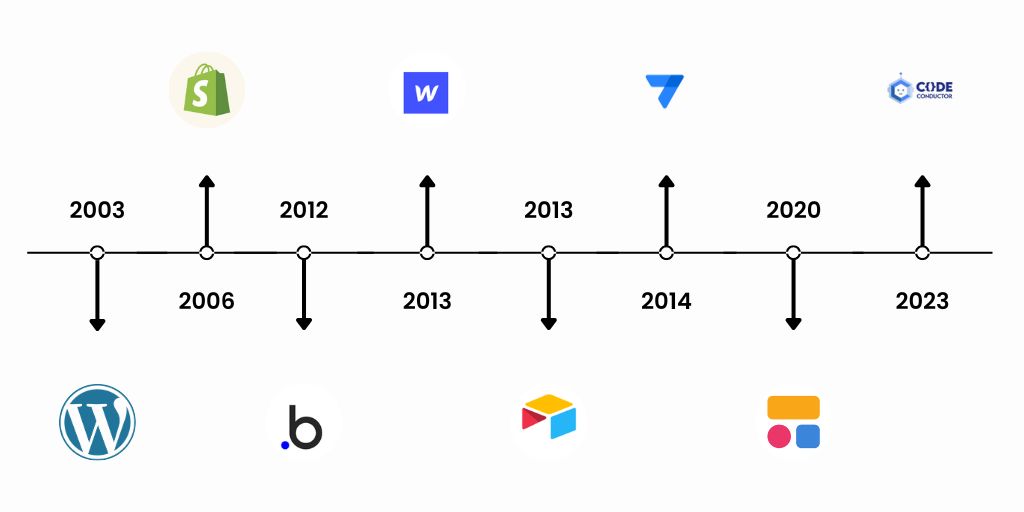 In recent years, the no-code trend has expanded to encompass a wide array of functionalities, including database management, workflow automation, and even complex application development. It has democratized software development by enabling entrepreneurs, startups, and individuals to create digital solutions without relying on traditional coding skills.
Timeline of No-Code Platforms
2003: WordPress, a prominent content management system, launched, allowing users to create and manage websites without writing code.
2006: Shopify emerged as a no-code solution for building online stores. It allowed entrepreneurs to set up e-commerce websites without coding skills.
2012: Bubble introduced a zero-coding platform that enabled users to design and deploy web applications visually.
2013: Airtable & Webflow launched, Airtable introduced spreadsheet-database fusion, simplifying data management. The same year, Webflow emerged, enabling responsive website creation without coding.
2014: AppSheet pioneered no-code app development, democratizing mobile applications.
2018: The term "no-code" gained more traction as more platforms entered the market. These platforms targeted a range of applications, from web and mobile app development to process automation.
2020s: Softr, emerged as a tool to quickly create web applications from databases.
2023: No-code development has expanded to encompass a wide array of functionalities, including database management, workflow automation, AI integration, and even complex application development. It has democratized software development by enabling entrepreneurs, startups, and individuals to create digital solutions without relying on traditional coding skills. Using the AI based no-code builders they can create websites & mobile applications. Here is the list of no-code builders to create website & mobile apps using AI.
What Small Business Owners Can Build with No-Code Platform?
At the heart of the no-code movement is the seamless translation of ideas into reality. Let's delve into how no-code is reshaping the digital landscape across three pivotal domains:
Business Websites and Landing Pages
Designing a professional and engaging website is a breeze with no-code development platforms. Pre-designed templates, customizable elements, and third-party integration facilities allow you to tailor your online presence to match your brand identity. Say goodbye to the complexities of HTML, CSS, and JavaScript. No coding skills are required—just your creativity and vision.
Engaging Mobile App Development
Mobile apps are a cornerstone of modern business strategy. Code-free platforms enable you to create mobile apps that captivate your audience and enhance user experiences. Whether you're an artisanal bakery or a boutique fitness studio, you can now offer a dedicated app to engage with customers, offer promotions, and streamline operations.
Seamless E-commerce Store Creation
E-commerce is the lifeline of many small businesses. No-code e-commerce app builder paves the way for hassle-free e-commerce store creation. From product listings and shopping carts to secure payment gateways, you can set up an online store that rivals the big players in the industry. Embrace the no-code approach and turn browsing into buying.
Reasons Why Small Businesses Should Choose The No-Code Platform
No-code tools are easy to tackle various challenges, but it's important to know what they are and what they're not. Think of no-code platforms like building blocks for making mobile apps, websites, and online eCommerce stores. Instead of writing complex code, entrepreneurs can use easy visual tools.
However, it's not about replacing traditional software creation. Instead, it adds extra power to regular coding. This means you can make working apps quicker and easier than before. It's like having a helper for common issues.
If you're a founder of small businesses, no-code tools are best choice for you. They save time and effort. Small businesses should opt for no-code platforms due to their:
Speed – Code-free platforms enable rapid application development without extensive coding, saving time.
Cost-effectiveness –

Small businesses can avoid hiring developers, reducing expenses with no-code tools.

Accessibility – No-code tools empower non-technical individuals to create applications, promoting inclusivity.
Ease of Use – Intuitive interfaces make it simple for anyone to design and build applications.
Increased Agility – No-code allows businesses to quickly adapt to changing needs by swiftly creating and modifying tools.
However, with the availability of a vast range of these coding-free applications, it is hard to decide, which is best for you. Am I right???
But, don't worry as there are several key factors for choosing the right no-code development platform. So you can choose as per your requirements and of course your budget too.
What's Next For No-Code?
As we all know that AI gains lots of popularity in the current digital landscape due to its extraordinary features. So the next big thing that revolutionizes the no-code movement is the AI-powered no-code platform such as Code Conductor that enables you to create websites, Web apps, mobile apps, and e-commerce stores just by writing a single line of text.