Before the COVID-19 pandemic, food delivery apps were a convenient option, but not as widely used as they are today. Many of us preferred dining out or picking up our orders. However, with the onset of the pandemic and the subsequent lockdowns, there was a significant shift in behavior.
More US Citizens now like to stay indoors and order their favorite food, avoiding harmful viruses and infections. Staying indoors became the new norm, and as a result, there was a massive surge in the popularity of food-ordering apps like DoorDash, Uber Eats, Postmates, GrubHub, Toast TakeOut etc.

Image Source: trends.google.com
If we look at Google Trends data over the last five years, we noticed a relatively steady interest until early 2020. But post that, there's a sharp upward spike, indicating a huge rise in searches and, by extension, the popularity of these apps. This trend underscores the adaptability of consumers and the potential growth opportunities for businesses in the food delivery sector.
In fact, the numbers show just how much we love these apps. As of February 2023, DoorDash emerged as the biggest winner in the battle of best food delivery apps in the United States, holding a huge 65% of the market, according to the report by Statista.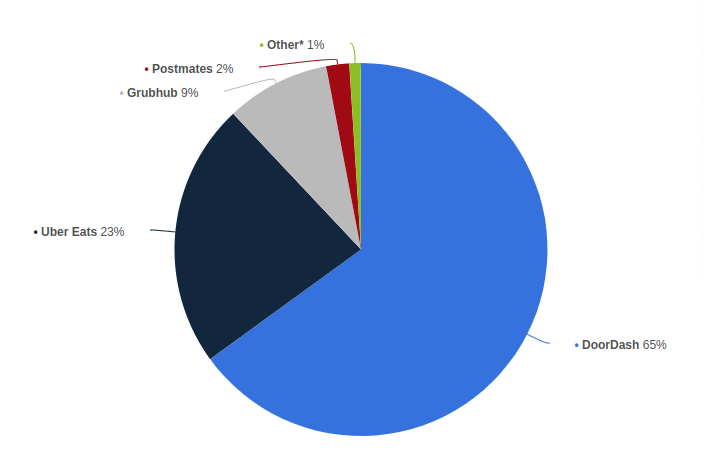 Image Source: Statista.com
Uber Eats is also doing well, with a 23% share and hold on the second spot. It's clear that making a food delivery app could be a great business opportunity for upcoming entrepreneurs and startups.
But, there is a cool twist…. What if I told you that building a DoorDash-like application becomes so easy that you don't even need technical expertise?
Yes, you read it right….
With the availability of no-code tools or platforms, you can easily compete with these popular brands and create a mobile app like Starbucks and DoorDash without writing a single line of code.
If you are new to these code-free solutions, don't worry…. You can read How to Start with No-Code Development – Guide for Beginners for detailed understanding.
How To Get Started With Your Own Food Delivery App?
Well, this is a very basic question, and most of the individuals are juggling through the internet to find the right way.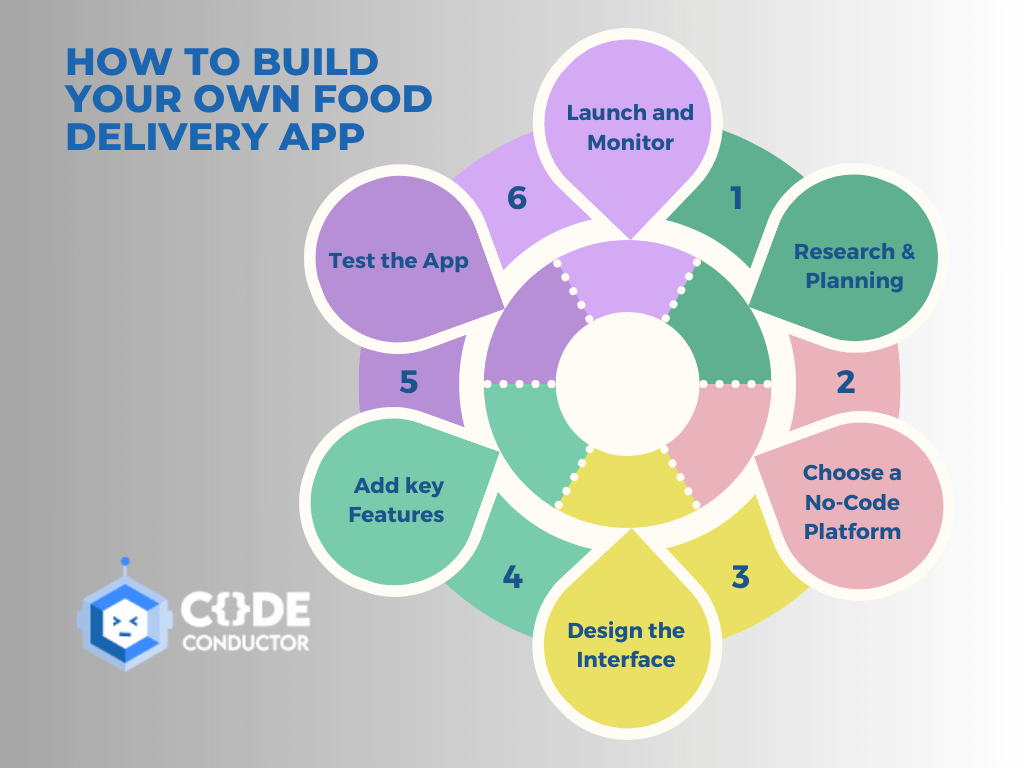 If you are also one of them, you can start with:
Research & Planning
Choose a No-Code Platform
Design the Interface
Add Key Features
Test the App
Launch and Monitor
But Before that, you all must know how the DoorDash food delivery app works.
So scroll your mouse to know in detail:
How Does A Food Ordering App Like DoorDash Work?
Food ordering apps like DoorDash serve as a digital intermediary between food enthusiasts and local eateries, streamlining the food ordering and delivery process. The platform caters to three primary stakeholders:
Customers
Food Establishments
Delivery Personnel
The delivery workforce of these food delivery apps plays a crucial role in the app's success. The platform offers multiple advantages, such as reducing delivery overhead for restaurant owners, creating job opportunities for delivery staff, and delivering meals at the convenience of the customer.
Why Choose No-Code Platforms For Building Your Own DoorDash?
Embarking on the no-code journey is not just a trend in the competitive food delivery sector. Although, it is a smart business move because of its
Cost-Effectiveness
Time-Saving Feature
Flexibility and Adaptability
Empowerment and Democratization Capability
Ability to Foster Innovation
By embracing no-code platforms, you're not just making a savvy business choice; you are stepping into a realm where your ideas hold the power, and where your vision can be translated into a functional, and successful food-ordering app with ease and efficiency.
It's about taking the pen of creativity into your hands and steering your business toward a promising digital future.
Choosing the Right No-Code Platform: Features and Top Picks
When you're on the journey to build an app like DoorDash, selecting the right no-code platform is essential. This choice can significantly impact how efficiently you can bring your DoorDash food delivery app to life.
Features to Consider:
Ease of Use
Scalability
Customization
Integration
Security
Top Picks for No-Code Platforms to Build an App like DoorDash
Undeniably, the market is full of unlimited no-code app builders, and from a plethora of options out there, it is difficult to pick the best one to build an app like DoorDash.
However, there are some key factors for choosing the right no-code development platform for your dream app. And we also enlisted the top no-code platforms for website & app development that will help you to choose the perfect app for online food order app. Here are top 5 out of these:
1. Code Conductor
2. WebFlow
3. Bubble
4. Squarespace
5. Adalo
Designing Your DoorDash Like App for Success
When you are figuring out how to build an app like DoorDash, the user interface is your first point of contact with customers. A simple, intuitive design can make your DoorDash food delivery app stand out in a crowded marketplace.
Incorporating Appealing Visual Elements
Visual elements are not just eye candy; they contribute to the overall user experience. When building a food delivery app like DoorDash, consider using vibrant colors and intuitive icons to guide the user through your app. You can also make use of pre-built themes of your No-code platform to get started.
Key Features of Your Food Delivery App Like DoorDash
Building a delivery app like DoorDash requires out-of-box features to grab the user's attention. Here we have compiled a complete list. Have a look!
User Account and Profile Creation
The first step in developing mobile applications like DoorDash is to allow users to create their own accounts and profiles. This personalizes the experience and makes order tracking easier.
The next feature when you create an app for online food ordering is a robust search function and well-organized menu options. It enhances user experience and speeds up the ordering process.
Order Placement, Tracking, and Payment Integration
When you are learning how to make a mobile app like DoorDash, seamless order placement, real-time tracking, and integrated payment options are key features to include. There are endless payment gateways, including PayPal, Stripe, etc.
You can also integrate a bank transfer facility in your newly developed food ordering app. Apart from these payment methods, credit and debit cards, Google Pay and COD are some of the other payment methods that you can consider to incorporate in your app.
Loyalty programs and review encouragement are essential when you building a DoorDash-like application. These features not only retain customers but also attract new ones.
Poor navigation can lead to a frustrating user experience and may result in users abandoning the app. So, it is good to implement a well-designed navigation system that helps users easily browse through restaurant options, view menus, place orders, setting up precise drop location and track deliveries in real-time.
This feature allows users to interact with an automated chatbot or customer service representative for assistance, queries, or complaints.
Undeniably, customer service is an essential aspect of any service-oriented business. A chatbot can handle common queries 24/7, freeing up human customer care agents to deal with more complex issues. This ensures that customer concerns are addressed promptly, thereby increasing customer satisfaction and loyalty.
Users can rate their experience with the restaurant and the delivery service and also write reviews that are visible to other users.
Reviews and ratings offer social proof, helping new users make informed decisions. They also provide valuable feedback to restaurants and the food delivery service, offering insights into areas for improvement. This feature is essential for building trust and ensuring quality control.
These are messages that pop up on a user's mobile device, even when the app is not in use. They can be used to inform users about new offers, order status, and other updates.
Push notifications serve as a direct line of communication with users. They can be used to engage customers by providing timely and relevant information and encouraging them to use the app more frequently. For instance, notifying users about a special discount on their favorite cuisine could prompt an immediate order.
Social media integration serves multiple purposes. First, it simplifies the sign-up and login process, as users can join the app using their existing social media credentials.
Second, it enhances user engagement by making it easy to share experiences, thereby providing free marketing for the app and the restaurants. This feature can be particularly beneficial for attracting a younger, more social media-savvy audience.
Order Scheduling and Pickup
Order scheduling offers users the convenience of planning their meals in advance, which can be particularly useful for group orders or events.
The pickup option, on the other hand, provides an alternative for users who prefer to collect their orders themselves, either to save on delivery fees or for added convenience. Both functionalities add layers of flexibility and choice for the user, making the app more accommodating to different needs and preferences.
Testing and Iterating Your Food Delivery App
Testing or quality assurance is vital for any app, including a food delivery app like DoorDash. This phase incorporates rigorous testing, which ensures that all features work as intended and that the app is secure. It has various steps as described below:
Beta Testing, User Feedback, and Iteration
Before launching, don't forget to conduct a beta testing phase because it is necessary to gather user feedback while building a delivery app like DoorDash, as it allows you to make necessary adjustments before making the final launch.
Pre-Launching and Promoting Your App
After beta testing, once you fix all the suggested issues by the beta testers, pre-launching and promoting your food delivery app is important to make it a big success.
It is 100% true that effective marketing is key to the success of your app similar to the DoorDash food delivery driver app. Promotion via social media, influencer partnerships, and targeted ads is the best route to reach your audience.
App Store Optimization for your  Listings
App Store Optimization for your listing can make a significant difference in the number of downloads your app receives. This is especially important for competitive fields like food delivery apps.
Hosting a Memorable Launch Event
A memorable launch event is not just about ceremony; it's a strategic move to set your food delivery app on the path to success. By carefully planning the event's activities, presentations, and guest list, you can generate significant buzz and media coverage.
This initial attention is invaluable for attracting a user base, especially in a competitive market where apps similar to DoorDash are competing for consumer attention.
It is good to incorporate live demos, testimonials, and interactive sessions to engage attendees. You might also want to invite influencers in the food and tech industries to amplify your reach.
The goal is to create an event that not only introduces your app but also leaves a lasting impression that encourages downloads and sustained usage.
Growing and Optimizing Your Food Delivery App Post-Launch
Once your app is launched, It is recommended to monitor key performance indicators regularly to ensure that your app is meeting user expectations and market demands.
Well… The work doesn't stop after launch. Continuous updates and improvements are necessary for the long-term success of your food delivery app.
How Does A Food Delivery App Like DoorDash Make Money?
Monetization is essential for your app's life. You can achieve this by diversifying your revenue streams through partnerships, in-app advertisements, and premium features to maximize profitability. There are four popular monetization models for food delivery apps:
1. Commission Structure
The commission structure serves as the backbone of your revenue model when you're building a delivery app like DoorDash using no-code platforms.
By setting competitive delivery and service fees, you can attract both users and restaurants, positioning your app as a viable alternative to established players like DoorDash.
In this structure, you will find the below-listed types of revenue-generated factors:
Introductory Delivery Fees: Once you are all set for the monetization phase, consider setting a low delivery fee initially. This can help attract a user base in the competitive food delivery market.
Service Fees for Restaurants: Charge a nominal service fee for restaurants using your app for order placements and deliveries. Keeping this fee competitive can make your app an attractive option alongside giants like DoorDash.
2. Advertising Opportunities
Offering in-app advertising tools allows restaurants to gain visibility and attract more customers within your DoorDash-like app. This revenue model becomes increasingly effective as your user base grows, creating a win-win situation for both you and the advertisers. Here, you will discover:
In-App Promotions: Offer advertising tools that allow restaurants to feature themselves prominently within your app. This model becomes more effective as your DoorDash-like application gains a substantial user base.
3. Dynamic Pricing:
Dynamic pricing allows you to adjust fees in real time based on demand, such as charging additional fees during peak hours or adverse weather conditions. This strategy can optimize revenue for your food delivery app similar to DoorDash, especially during high-demand periods.
4. Subscription Models
Subscription models offer a recurring revenue stream by providing premium features like free deliveries or exclusive discounts.
A one-month free trial can effectively showcase these benefits, encouraging long-term user commitment to your food delivery app similar to DoorDash.
Use Code Conductor To Build Apps Like DoorDash
If you're looking for a no-code platform to build your food delivery app, Code Conductor is a top pick. Known for its user-friendly interface and robust features.
By following this comprehensive guide, you're not just learning how to build an app like DoorDash; you are also setting the stage for a successful venture in the bustling digital marketplace of food delivery services.
So, Don't Wait And Book Your Free Demo Now!