Code Conductor is the best alternative to Webflow
In today's digital landscape, creating websites and apps without complex coding has become vital. But, finding the right no-code builder becomes more important than this.
Webflow versus Code Conductor. Which one is the best no-code website and mobile application builder? Code Conductor and Webflow are two of the best and most popular no-code website builder available today. Both are highly recommended and incredibly helpful create website and mobile applications.
This guide will explain the best alternative to Webflow for building no-code websites and mobile apps, which is Code Conductor.
Code Conductor and Webflow are no-code website builders those create websites and apps visually without coding. Also, Code Conductor is an AI powered no-code builder which offers unique advantages as a finest Webflow alternative. This guide will compare the features and strengths of each to help you choose the better platform based on your specific needs.
Code Conductor provides all the tools you need to simplify building websites and mobile apps. We'll look at the capabilities of these alternate platforms in areas like User interface design, Data integration, Interactions and animations, and Responsive layouts.
We'll also examine how intuitive and accessible Code Conductor is for beginners compared to Webflow. Additionally, we'll explore its scalability and extensibility over time as your projects grow. By comparing capabilities, advantages, and user experiences, you can determine if Code Conductor is the right no-code development platform to build your website and mobile application.
In the following blog, we'll break down Code Conductor's strengths versus Webflow across all critical factors. So let's take a look!
Why Choose Code Conductor Over Webflow?
Choosing between Code Conductor and Webflow depends on your business' specific needs and priorities.
Here are some reasons why you might consider Code Conductor over Webflow:
Comprehensive SEO Optimization


The most recommended alternatives, Code Conductor, prioritizes your website's search engine visibility by implementing a comprehensive SEO optimization strategy.
This ensures that your website ranks well on search engines, making it easier for potential visitors to discover your content.
Other platforms like Webflow, where you might need to handle SEO aspects manually, our platform takes care of this crucial aspect for you, saving your time and effort.

Responsive Design Across Platforms


Your website's responsiveness across different devices and platforms is vital for user experience. With Code Conductor, your website will automatically adapt to various devices, including desktops, tablets, and smartphones.
This guarantees a seamless and consistent user experience, regardless of the device your visitors are using.
While other platforms might not offer this level of flexibility and responsiveness.

Data Security and Backup


Data loss can be catastrophic for any website owner.
Code Conductor, alternative of Webflow, ensures that you have a full backup of your website, providing you with peace of mind knowing that your data is safe and can be restored in case of any unexpected events.
In comparison, some other platforms might not offer automatic and comprehensive backup solutions.

GitLab Access for Source Code


Access to your website's source code is crucial for customization and collaboration.
Code Conductor provides you with full access to your website's source code through GitLab. This facilitates efficient collaboration with developers and allows you to make custom modifications to meet your specific needs.
In contrast, some alternatives might not offer such direct access to the source code.

User-Friendly Text-Based Building


Code Conductor takes a unique approach for website building. It means with a single line of text, it builds a whole website in less than 30 minutes.
While other platforms might rely heavily on complex drag-and-drop interfaces, we empower you to build a website with just a single line of text.
This streamlined method enhances efficiency and reduces the learning curve, making website creation more accessible to a broader audience.

AI-Powered Versatility


Our platform leverages the capabilities of artificial intelligence (AI) to enable you to create a diverse range of websites and mobile applications. In simple terms, Code Conductor is an AI powered website builder, which is packed with featured rich templates and advanced functionalities.
Whether you're looking to build a local business website, a standalone landing page, an e-commerce platform, or even a complex marketplace, our AI-driven tools provide the flexibility to accomplish these tasks in just less than 30 minutes.
However, Webflow cannot create Web apps with complex logic, Marketplaces, and Mobile apps like Code conductor.
This AI integration sets us apart from platforms that might not offer such advanced and versatile features.

Holistic Innovation Approach


Code Conductor brings together the power of AI, the simplicity of no-code development, and the creativity of human innovation.
This unique blend allows you to harness cutting-edge technology while still infusing your personal touch and creativity into your projects.
This combination differentiates us from platforms that might focus on just one aspect, neglecting the benefits that each approach brings when used together.
Bridging the Gap in Customization
Webflow, a popular no-code platform, empowers users to design and build visually stunning websites without delving into the complexities of coding. It's a fantastic solution for those seeking an efficient and user-friendly way to create websites.
However, when it comes to in-depth code-level customization, it restricts the ability to offer extensive customization at the code level. While its powerful customization options allow you to alter basic code customizations, you cannot change the functionality of any code.
This is where the Code Conductor steps in as an effective solution. Similar tools to Webflow take a different approach, recognizing the importance of not only providing a user-friendly interface for no code development but also catering to the needs of those who require more profound customization. With Code Conductor, you're not limited to modifying surface-level code elements; you're granted access to the complete source code through GitLab.
Best Webflow Alternative – Code Conductor
Web design and development is a dynamic field where innovation is essential to unlocking limitless creative potential.
Introducing Code Conductor, an AI powered no code builder poised to revolutionize the way you design web pages, offering a seamless alternative to Webflow and other traditional resources.
Advantages of Code Conductor
Empowerment Through Code:

While Webflow caters to users seeking a visual, code-free approach, Code Conductor embraces both the visual and the coding worlds. Whether you're a design enthusiast or a seasoned developer, you'll find your sweet spot in Code Conductor.

Efficiency Meets Flexibility:

Code Conductor understands that every project is unique. With a flexible, modular architecture, you have the power to craft your website exactly as you envision it. Get your website designed the way you want it, no more template limitations. There are Top 11 No-Code Website Builders With Pre-Built Templates.
Seamless Collaboration: Collaborative projects often face roadblocks when transitioning between the design and development phases. Code Conductor bridges this gap effortlessly. Designers and developers can work harmoniously within the platform, streamlining workflows and ensuring a smoother project lifecycle.

Future-Ready Technology:

Stay ahead of the curve with Code Conductor's commitment to adopting the latest web technologies. Whether it's the integration of the newest CSS frameworks or staying up-to-date with JavaScript advancements, your websites will be ready to impress with both performance and aesthetics.

Data-Driven Insights:

Elevate your decision-making process with actionable insights. Code Conductor empowers you to analyze user behavior, track performance metrics, and fine-tune your website accordingly. Make informed optimizations that truly resonate with your audience.

Endless Extensibility:

Code Conductor believes in possibilities without constraints. Extend the platform's capabilities through third-party integrations, plugins, and APIs. If you can dream it, you can achieve it with Code Conductor.
Let's Try Code Conductor
Ready to take your web and app development journey to new heights? So, give a try to our best AI website builder i.e. Code Conductor and see the difference by yourself.
Code Conductor's unique blend of features, including AI integration, simplified building process, and comprehensive SEO optimization, can make it a compelling and ultimate alternative choice for those looking for a different approach to web development compared to platforms like Webflow.
No-Code Platform – A Review of Webflow
Webflow, a no-code platform, revolutionizes web design and development by offering an intuitive interface for crafting visually impressive websites without coding expertise.
Its drag-and-drop functionality allows users to place and style elements precisely. The platform excels in ensuring responsiveness across devices, delivering a seamless experience on various screens.
Notable for its dynamic features, Webflow supports animations, transitions, and interactive elements that engage visitors. In addition to its design capabilities, Webflow caters to content management needs through its integrated content management system (CMS). This feature allows users to effortlessly manage and update content, ensuring that websites stay current and relevant.
However, to access Webflow's services, you have to pay $39 per month for the Business plan and $212 per month for the Ecommerce plan. While both plans offer a range of valuable features, it's worth noting that Webflow packages are slightly higher than some alternatives in the market.
Moreover, Webflow's limitations include restricted code-level customization options, potential shortcomings in customer support, and limited SEO capabilities. Users should weigh these factors against their specific needs and preferences when considering Webflow as their web design and hosting platform.
User Survey – Code Conductor vs Webflow
We've gathered valuable insights that shed light on the experiences users have had with these alternative tools (Code Conductor and Webflow), two prominent players in the world of web development platforms.
However, some users have encountered challenges with Webflow's customer support, pricing, and SEO capabilities. According to user feedback, there are concerns about the cost, limited functionality for the price, and a perceived lack of effective customer support channels.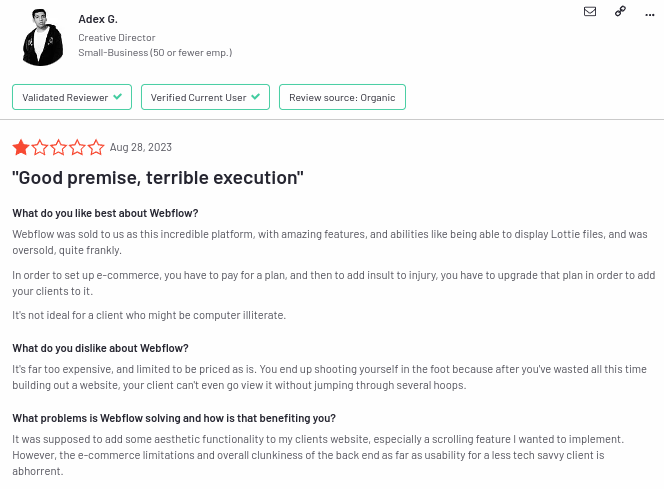 The pricing structure has been described as overly expensive and not commensurate with the features offered. Furthermore, users have reported difficulties in seeking assistance, as the support options appear to be limited, primarily relying on email communication for non-enterprise customers.
Several users have expressed dissatisfaction with various aspects of Webflow, including customer service, platform usability, and the overall user experience. One user, with four years of web design experience, strongly discourages using this platform.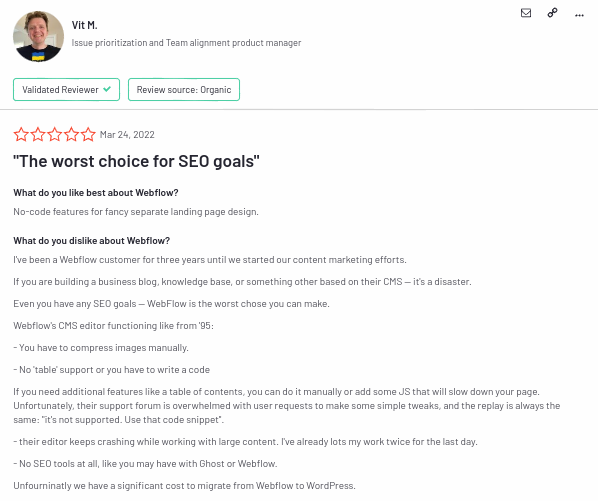 For those looking to create a business blog, knowledge base, or other content-driven websites using Webflow's CMS, it has been characterized as a challenging experience. Additionally, if you have SEO goals, Webflow may not be the ideal choice based on user feedback.

In addition, while Webflow also has strengths in customization and dynamic design features, users have reported certain limitations. It encounters challenges when it comes to deep code-level customization. Those with advanced coding needs may find their options restricted within the platform.
Recommendations!
Both no-code website builders are capable to create mobile applications, web pages, or other software solutions without requiring traditional coding skills.
But, when it comes to a webflow alternatives comparison, these both have different approaches, functionalities, and advantages.
If you're looking for a Webflow alternative that streamlines website creation, Code Conductor shines as a recommendation. Its innovative approach allows you to build websites without extensive coding knowledge, all through a single line of text. This simplicity accelerates the creation process, making it an excellent fit for those looking to swiftly bring their digital visions to life. However, it's important to note that while Code Conductor boasts powerful customization options, its ability to cater to intricate code-level customization is somewhat limited.
However, in the age of AI, where tools like ChatGPT and MidJourney generating content and images with a single line of prompt, the demand for a no-code website builder has become imperative that can construct entire websites or mobile apps within a few minutes, even for individuals lacking a coding background or skills, cannot be overstated.
And, Code Conductor emerges as a vital AI-powered builder tool that empowers users to create entire websites with just a single line of text.